Best Ways To Style Boyfriend Jeans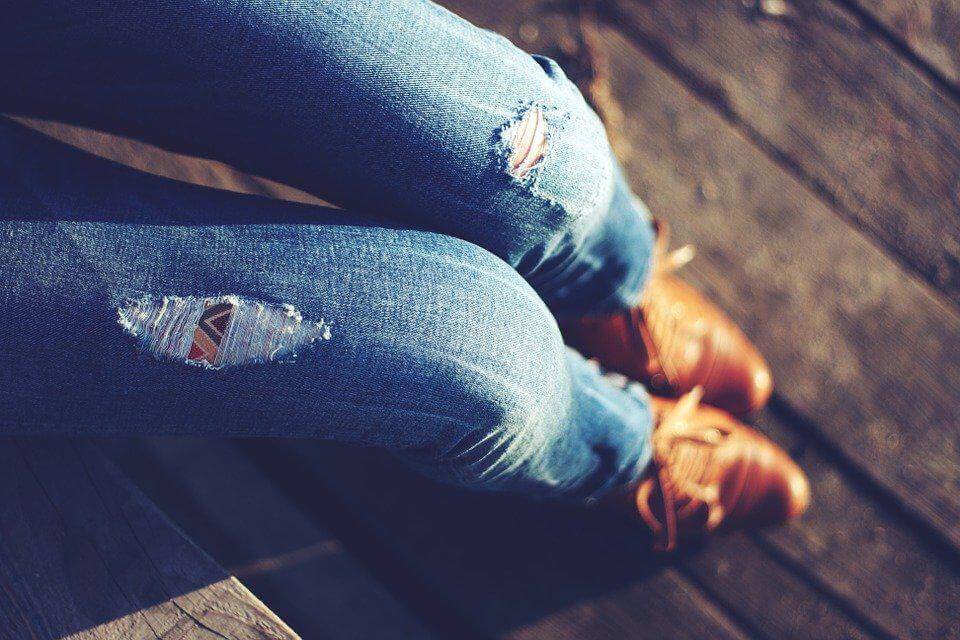 Just like every other piece of clothing, these jeans have hit the market as a trend. But, unlike many trends, they immersed themselves in a timeless fashion. It will not be an exaggeration to say that the wardrobe of a modern female looks somewhat incomplete without the decent representation of boyfriend jeans.
Over the years, the jeans have gone through a variety of cuts, shapes, and designs. However, many women still attire them keeping their past fashion statements in mind. As a result, they restrict themselves from exploiting boyfriend jeans to their full potential. There is something about boyfriend jeans that make you look stylish no matter how you wear it. However, why make peace with the one-dimensional look when there is so much you can do with it with little to no effort?
Here are some amazing styles that go with boyfriend jeans:
1. White Plain T-Shirt
There are so many outfits that can turn you into a visual treat, but not before you put too much effort. That's where boyfriend jeans parts ways from the rest. Simply put, it saves you from walking the extra mile.
You can pair something as basic as a white t-shirt with light blue boyfriend jeans and still pull off a miracle look. Size hardly matters. Be it a fitted or overgrown t-shirt, both will do the job quite comprehensively. As for shoes, you may choose anything from white sneakers and white heels. If it still looks a touch too minimalistic from your standpoint, toss a leather jacket and you are good to go.
2. Button-Down Shirt
As the name suggests, the concept of boyfriend jeans has its roots in men's style. So you can do justice with the jeans by tucking-in a button-down shirt. We leave the color of the shirt on your imaginations but it is recommended to pair it with slim boyfriend jeans. Whenever a celebrity keeps up with this style, she features in the fashion blogs for all the right reasons. To further polish your casual weekend look, you can rely on some cool accessories. For example, blue sunglasses are likely to sit well with your blue jeans. Boots can be a good addition too. Cowboy, casual, and tall, you may pick any pair of boots and there is no way anyone can keep you from becoming the center of attraction.
3. Add Layers
You don't have to be a fashion-fanatic to know that layering up on jeans is always in trend. That said, it is a tricky business. A minor slip up can turn everything topsy and turvy and all the hard work will simply go down the drain. There are typically two ways to approach this style.
I. Throw an overgrown shirt on your body and couple it with an oversized sweater.
II. Wear a button-up shirt (avoid tucking) with a slouchy sweater. A matching hat will just make things ideal for you.
Since boyfriend jeans are the hallmark of comfort, there is a great chance that you may buy a rather baggy one. Make no mistake, layering up works the best with well-fitted boyfriend jeans. It does not have to be skinny but not too lose either. To be on the safe side, you should dive into a few handy tips while buying a pair of jeans that fit.
4. Long Coat
It is time to crush a myth, that is, "boyfriend jeans do not go with an overcoat". Totally untrue! As long as the long coat does not completely hold sway on your figure, you can wear it on the boyfriend jeans. Don't forget to gently tie the strips of coat around your waist for it will add in the appeal factor. High heels are the automatic choice for the loose formation of boyfriend jeans. In the end, give a finishing touch to your look by tying your hair in the bun style and you are all set to steal the show.
5. Black Leather Jacket
The camaraderie of black leather and boyfriend jeans dates back to the last century. Talking about the color, dark blue jeans will complement the black leather jacket better than any other shade. A white t-shirt is a go-to option for this combination. Arguably the best thing about this style is that it keeps you at a safe distance from the overwhelming display of accessories. All you need is a pair of white sneakers and sunglasses (preferably black) and you are all set to catch the eyeballs.
6. Black Top
This is the standout way to wear boyfriend jeans to achieve a ladylike look. A black fitted top on the ripped baggy jeans is currently trending like anything. The outfit looks even more attractive by folding the jeans upwards from the bottom. If you are intending for a minimalistic look, this arrangement is certainly your cup of tea. Lastly, don't miss out on the pale heels. They are bound to add up the youthfulness.
7. Denim Top
Albeit the latest, double denim trend has refused to slum down ever since it has emerged on the scene. For a slender figure, a red and white slim-fitted sweater with a denim jacket will be an ample choice on baggy boyfriend jeans. Rest assured, the matching color of the bottom and top denim is not going to inflict any negative influence on your appearance. Being slim, you can easily get away with a similar color. However, if you happen to be someone with a heavy-bottom figure, you should devote more attention to shades. As a rule of thumb, a pair of dark boyfriend jeans and a light jacket will go down well with your body type.
8. Off-Shoulder Blouse
There are many ways to get a feminine look. But perhaps none of them comes close to wearing an off-shoulder top on boyfriend jeans. For the past many years, this outfit has been dominating the summer single-handedly. Make sure you don't miss out on a body bag and suede ankle boots. They are extremely key to bump up your outlook with this sort of pairing.
9. Tailored Jacket
Against the contrary belief, boyfriend jeans can be turned into decent office-wear. Don't assume you will have to go to a designer for that. All you need is the combination of a basic plan top, tailored jacket, and ankle boots. Also, carry a large statement bag which is essential to give you a serious business-women-like look.
Conclusion
Throughout our life, we spend a reasonable budget to purchase clothes. Adhering to modern-day trends is even more expensive because they disappear and get replaced in the bat of an eye. But knowing the above styles of boyfriend jeans will not save just your money but you will also be able to keep up with the latest trends.
C