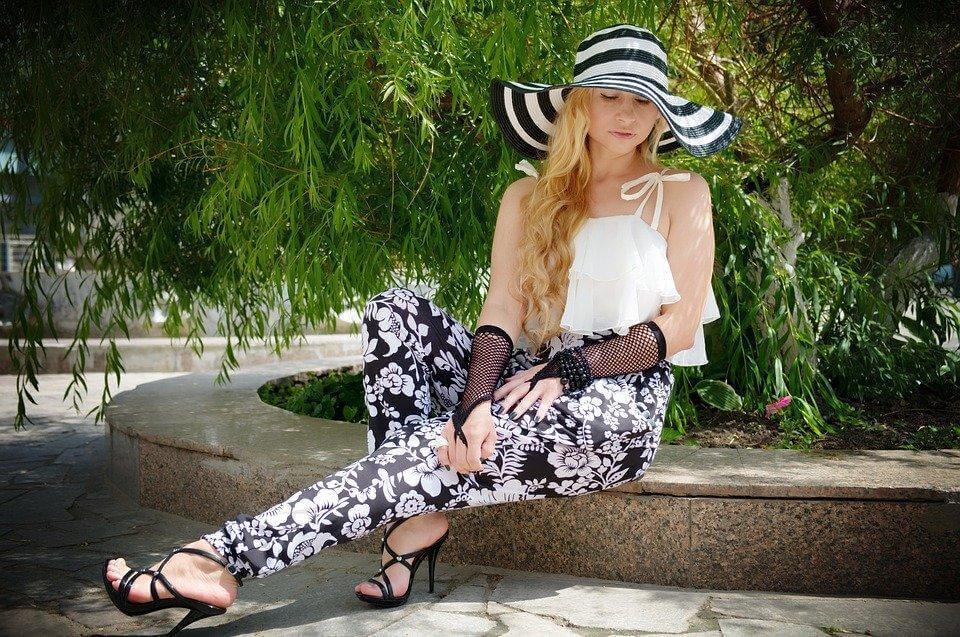 Back in the day, people wore jumpsuits primarily to make themselves comfortable. That is precisely why soon after their inception, jumpsuits quickly gained the reputation of nightwear. However, as time progressed, this outfit started to grow as a compulsory wardrobe attire. From date night to a house party, today you can spot women dressed in jumpsuits almost everywhere.
The following list of the latest jumpsuits ensures that the evolution of the jumpsuit as a comfy and classic dress is one of its kind. Moreover, you can wear them with confidence and steal the show with your stylish look.
1. Halter Jumpsuit
It is no big deal if you haven't tried a jumpsuit before. Considering their figure, many women tend to become timid while thinking about a jumpsuit. If you are going through the same dilemma, the halter jumpsuit is surely your best escape. The halter jumpsuit is designed in such a way that it splits your body beautifully. In other words, you won't have to leave your comfort zone. Depending on the brand, it comes with a wrap as well as a belt.
2. Black Heather Jumpsuit
If you have a slight idea about fashion, you would agree that dark colors put all the doubts behind. That is where black heather jumpsuit swings into action. But there is more to this dress than just the shade, especially its quality to streamline the right proportions of the body. As a rule of thumb, you should wear it without the baggage of accessories. but, this could be an exception for those with broad shoulders. The designers call it an ideal pick for pear-shaped figures.
3. One-Shoulder Jumpsuit
Some of us want to look stylish while keeping our simplicity intact. Fortunately, designers anticipated this impulse and showed up with the awe-inspiring one-shoulder jumpsuits. It is flawlessly easy to carry. The outfit was initially manufactured for cocktail parties. But, owing to its extraordinary qualities, it is now preferred for a variety of occasions.
4. Black Layered Jumpsuit
It is a refreshing break from the readily available one-dimensional jumpsuits. As the name suggests, a black layered jumpsuit offers an additional layer on the top which ads into your youthfulness. What's more, you can wear it in a workplace without looking out of place.
Designers believe, the suit goes with all sorts of figures. Be moderate on accessories. If the readymade jacket does not define your fashion statement, you can replace it without second thoughts. Lastly, the selection of fabric can make or break for you. So don't allow the design to distract you from examining the nature of the garment.
5. Purity Jumpsuit
If you happen to be on the hunt for a backless jumpsuit, you have arrived at your destination. Ever since purity jumpsuit has hit the scene, it has never run out of steam. Having a skinny figure, you can't ask for anything better than this. With this outfit, all you need is a pair of black high heels to pull off a stunner look.
6. Printed Baggy Rayon Jumpsuit
This one is for those who are head over heels in love with bohemian designs. Its well-balanced print will make you fall in love with the dress at first glance. The jumpsuit has something about it which gives you a distinguished look even in the crowd. That's why airports, malls and other crowded settings are said to be the best places to put on this absolute jaw-dropper.
7. Black Solid Wide-Legged Jumpsuit
In the fashion world, less is more. If you don't trust these words, you need to look no further than the gold ornamented neck of this outfit. It would be best to stay away from accessories. Be it pumps or wedges, either can be donned with the dress.
Though there is no steadfast rule to draw the line, it is generally assumed that triangle-shaped bodies are given the best coverage by a black solid wide-legged jumpsuit.
8. Long And Floor-Length Jumpsuit
Aside from the length, the combination of black and white strips enhances its appeal. The dress is doctored in such a way that it makes the neckline all the more visible with flattering finesse. Needless to say, there are not many things as sexier than the neckline which deserves to be exposed. Events like casual dinner parties are the most appropriate occurrences to wear this.
9. Ivory Solid Jumpsuit
There is no dearth of celebs who have exploited this look. Beyoncé, Kylie Jenner, and Taylor Swift, to name a few of them. The standout feature of this jumpsuit is that it is available in a wide range of verities. It may take some research to unearth the one that is in step with your figure, but it is definitely worth the effort. Gold accessories are strongly recommended for the additional flair.
10. Blue Cold Shoulder Baggy Jumpsuit
Many jumpsuits test your delicacy when it comes to covering broad shoulders. But this outfit is a different deal altogether. Not only its garment deftly envelops around your shoulders but also saves you from going completely sleeveless. If you have bulkier and wide hips, the waistline will contribute to the invisibility of extra weight. You can work out the shoes or flats on your own. Either of them will suit as long as they are in white.
11. Winter And Cozy Jumpsuit
One does not have to wait for a hot climate anymore to put a jumpsuit on. This costume is made of wool and keeps you warm in the winter. It is patterned on the tight-fit style and caters to every body type. Presently, the dress is amongst the top-tier global fashion trends. Quality long boots take the appearance to a whole new level.
12. One-Piece Jumpsuit
This jumpsuit encompasses all the major attributes of a casual look. Since it is sleeveless and comparatively shorter, the outfit keeps you sun kissed during the summer. Bun hair coupled with high heels will surely multiply the casual vibes.
13. Sequin Jumpsuit
Are you fond of parties? Having a big friend circle infers that you are meant to attend and arrange various parties on many occasions. Consequently, this jumpsuit has to be an indispensable part of your wardrobe by any means. From fabric to the variant designs, everything is just perfectly-poised to give you a portrayal that is the hallmark of every wild party.
14. Off-Shoulder Jumpsuit
Someone who has a nag for giving a shot to every brand new trend must try this sizzling outfit. Don't worry about your weight, the silk garment of this dress pretty much takes the figure out of the equation. It is advisable to loosen up your hair and toss up a pair of heels.
15. Lace Jumpsuit
This list can't come to a close without mention of the lace jumpsuit. Designers have added all the small details in this suit to make it as feminine as possible. Regardless of how detached you are from the styling industry, in all likelihood, wearing this pretty costume will earn you the reputation of a fashion diva.
Final Word
It is no revelation that the versatility of jumpsuits knows no bound. However, at the same time, it is important to stay updated with trending fashion. The above styles of jumpsuits are the most recent innovation of designers. You can sort them by respective event, body type, and your taste.
C